NLWA creates 52 on-site training placements to help boost employment in north London
North London Waste Authority's (NLWA) job-generating project at Edmonton EcoPark is creating at least 225 on-site training placements for north London residents. 52 placements have already been fulfilled, with many more opportunities available in the coming months and years.
The North London Heat and Power Project (NLHPP) is NLWA's plan for a new sustainable waste hub to provide the most modern and advanced waste management and recycling facilities. As well as delivering essential public services, the Project is creating exciting job opportunities to attract local talent, at a time when these career opportunities are most urgently needed.
Councillor Clyde Loakes, Chair of NLWA said, "We have a responsibility to embed the North London Heat and Power Project into the ongoing regeneration of Enfield. Through the creation of these exciting training placements and job opportunities, we're helping the next generation of north London workers kick start their careers and attract new talent into the construction sector".
Over the next 10 years, NLHPP will create at least 225 on-site training placements aimed at helping to equip local residents with skills required for careers in construction. The short-term training placements involve on-site and classroom learning, providing trainees with the opportunity to work towards a Construction Skills Certificate Scheme (CSCS) card, which itself is an important stepping stone into a construction career.
NLHPP's main contractor for the new Resource Recovery Facility, Taylor Woodrow, is partnering with the College of Haringey, Enfield and North East London (CONEL) to provide 60 of the 225 onsite training placements. Since May, Taylor Woodrow have delivered 17 training placements, with more to take place over the coming weeks and months.
Trainees will gain a BTEC Level 1 Award in Work Skills & Health and Safety, as well as working towards obtaining a CSCS card. The on-site element of the training involves practical demonstrations, shadowing members of the team and gaining an insight into construction skills ranging from the principles of surveying, to the trades needed to successfully deliver a project.
Bukky Olose, Sustainability Manager for Taylor Woodrow said, "Onsite skills training is an important part of our social value plan as it's a great way of showcasing the exciting and varied employment opportunities that our industry has to offer".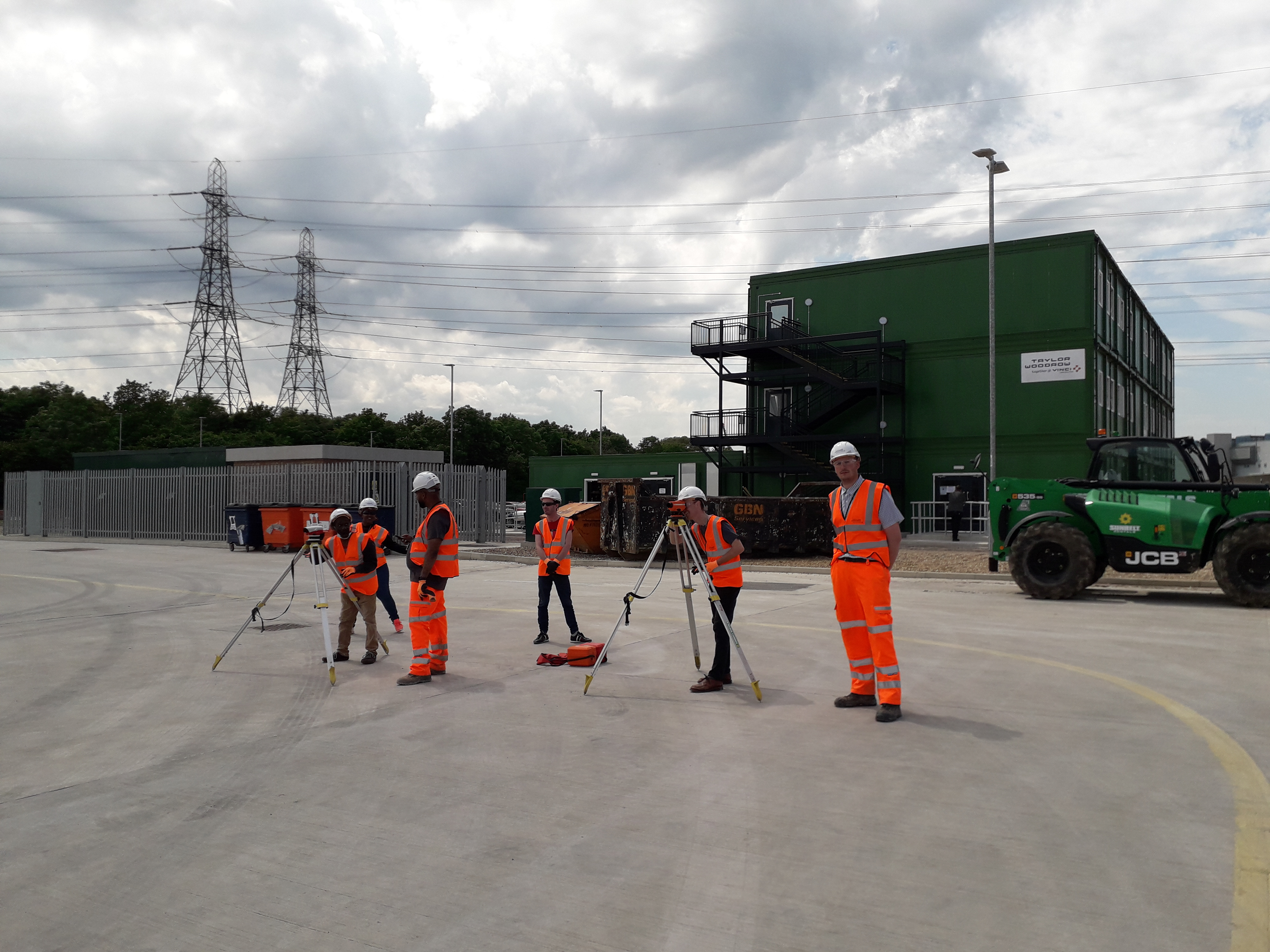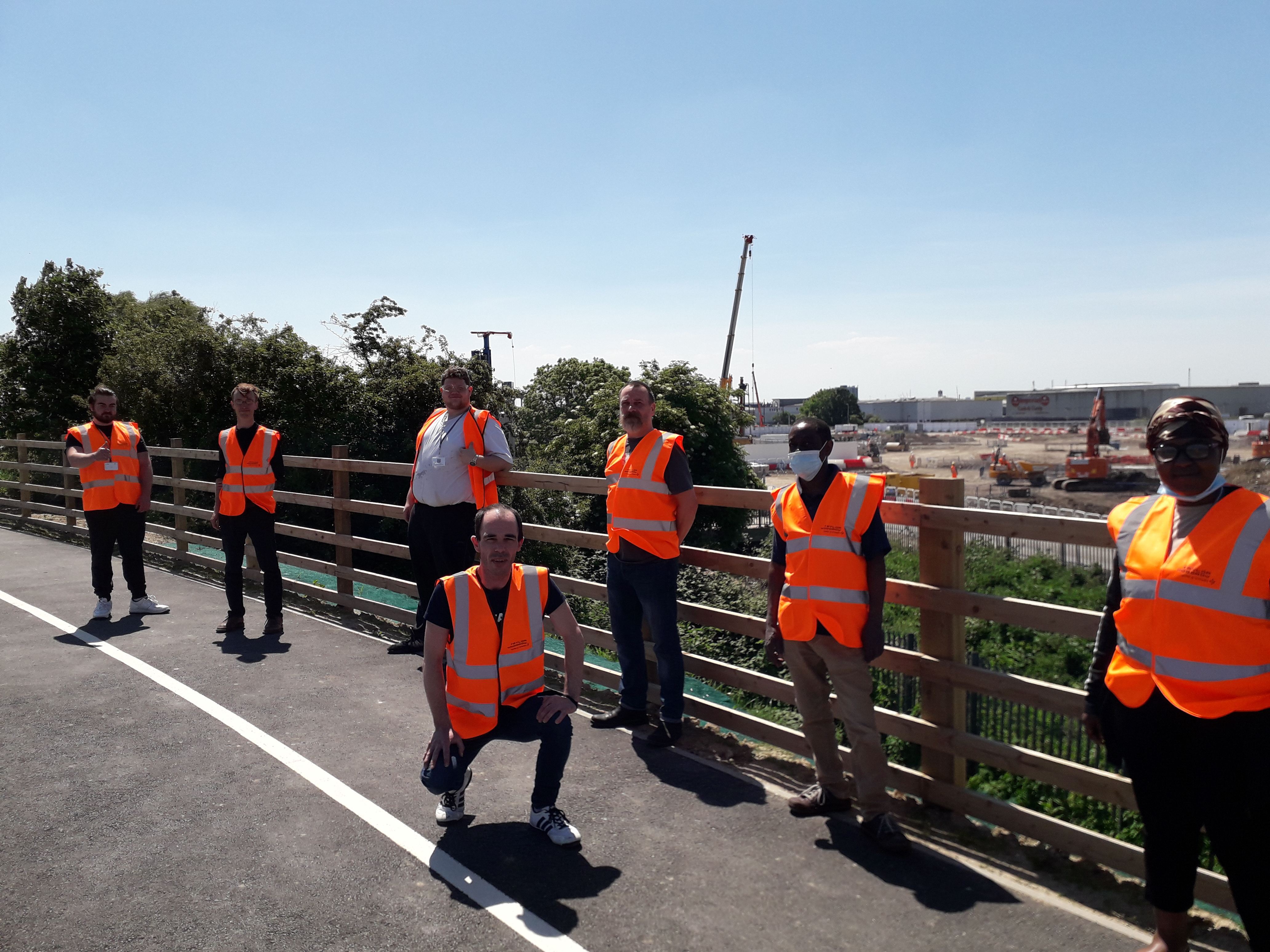 On-site trainees working with Taylor Woodrow, June 2021
NLHPP also runs an industry-leading apprenticeship programme, with a commitment to recruit at least 100 apprentices from the local area during construction. So far, the Project has welcomed 16 apprentices working in highly skilled roles such as ground and civil engineering, quantity surveying and business administration.
For more information about the on-site training and apprenticeship opportunities, please email: info@northlondonheatandpower.london. Further information about the Project can be found at: northlondonheatandpower.london.  
NLWA's training programme provides a unique opportunity for local residents to gain vital skills as part of a nationally significant infrastructure project. Construction on the £1.2bn* project has been underway since 2019. All enabling work sites are now complete and major construction is underway to build the new Resource Recovery Facility, public Reuse and Recycling Centre and a new visitor and education centre known as EcoPark House. At the end of this year a contract award notice will be issued to the chosen contractor for the replacement Energy Recovery Facility. 
* in 2019 cash prices.
Share