What you told us
NLWA's Chair, Councillor Clyde Loakes explains what is happening to the consultation feedback and what happens next.
North London Waste Authority (NLWA) has completed the first phase of public consultation on the North London Heat and Power Project – a £450-500 million Energy Recovery Facility (ERF) at the Edmonton EcoPark in the London Borough of Enfield. This would replace the existing Energy from Waste plant that has served north London for around 45 years.

NLWA's Chair, Councillor Clyde Loakes explains what is happening to the consultation feedback and what happens next.

I'd like to thank everyone who commented on our proposals for the North London Heat and Power Project in the first phase of consultation. The consultation lasted for 61 days, included 40 hours of public exhibitions and our website attracted more than 3,000 visitors.
We are carefully reading every comment we received to ensure we have understood what you have told us. We are working out what you agree with, if we can change our plans to incorporate the feedback and where we need to explain our proposals further to answer any questions.
What did you tell us?
The feedback we have received in writing plays an essential part in shaping our plans for the replacement facility. The topics you commented on cover many areas including the design and appearance of replacement facility and chimney stack, environment, the cooling system, traffic and transport, community benefits and the consultation process itself. 
At the public exhibitions, attendees asked a range of interesting questions including some about the existing plant. For example, we have been asked about the existing composting centre to the west of the energy from waste plant. We already know that there are no plans for a composting centre at the Edmonton EcoPark after 2025.
So what next?
NLWA will be collating all the written comments you provided and our responses to that feedback in a Consultation Report.  This will be published on our project website. We will circulate a newsletter to more than 28,000 homes and businesses so they know it has been published.
We will then create detailed plans for the project, taking on board the findings of this report.  These plans will show  the design of the building, the shape of the chimney stack and the layout of the roads on the EcoPark.  Will also provide details on the appearance of the visitor centre and will seek your comments on it.
Then, between 18 May 2015 and 30 June 2015, we will ask you to comment on this detail. We will advertise this consultation on our website, through more than 28,000 newsletters to homes and businesses within our consultation zone, leaflets and posters in Edmonton Green railway station.  We will advertise in the Enfield Advertiser and Enfield Independent newspapers too.
From 18 May, we really want to hear your views so please do help us to spread the word about the upcoming consultation.
Why we are doing this?
We want to prevent waste, we want you to recycle it and anything you can't, we're going to turn into fuel and use it to heat and power homes.
NLWA and the seven north London boroughs – Camden, Barnet, Enfield, Hackney, Haringey, Islington, Waltham Forest – in the area have agreed a joint target for north London to aim for at least 50 per cent of its waste to be recycled by 2020.
But we need a plan for the waste left over after recycling. Using fuel – waste collected by the seven boroughs which cannot be recycled – the replacement facility would generate power for around 127,000 homes and could provide heat for local homes and businesses. Heat would be distributed locally through schemes like Enfield Council's planned Lee Valley Heat Network.
Caption: Councillor Clyde Loakes, Chair, North London Waste Authority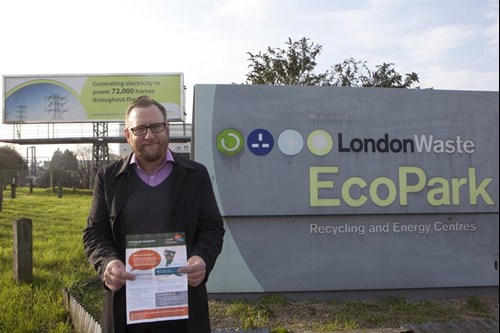 Share