North London Heat and Power Project celebrates off-grid designs for new community and education centre during London Climate Action Week
As London celebrated its Climate Action Week for 2022, North London Waste Authority (NLWA) is progressing with building new sustainable waste management facilities at the Edmonton EcoPark. This includes London's largest investment in recycling facilities for decades to allow residents to bring recycling to the EcoPark. It will also see the replacement of the energy from waste facility to continue treating residual waste in north London in the most environmentally conscious way.
Opportunities and innovations to reduce the embodied carbon in the buildings have been encouraged wherever possible as North London Waste Authority deliver this nationally significant project. Across London Climate Action Week, NLHPP are celebrating some of the environmental successes that have been achieved so far including successful ultra-low carbon concrete trials, reusing over 500,000 litres of water onsite, and diverting 99% of construction and demolition waste away from landfill.
One of these examples is EcoPark House, a two-storey pavilion located on Edmonton EcoPark adjacent to the River Lee Navigation. Once construction is completed in early 2023, it will be an education and visitors' centre where people can find out more about recycling resources, heat, power, and how to reduce the carbon impact of their waste. EcoPark House has been specifically designed to be off grid, meaning that it will not use public utilities and instead will only use renewable heat and power available from the EcoPark.
The building will use a combination of ground source heat pumps to provide heating and cooling, with electricity supplied by   the nearby vast solar panelled roof of the Recycling Recovery Facility. A Tesla battery and invertor will store renewable energy generated from 1865 solar panels on the roof so that electricity can be supplied as needed. This will be in a battery room on the first floor of the building, linking the solar panels on the roof of the Recycling Recovery Facility to EcoPark House. In addition, all heating and cooling requirements will be provided by a ground source solution comprising of ground-to-water heat pumps. This will transfer heat from boreholes in the ground outside of the building to heat the radiators and provide underfloor heating. It will also heat water stored in a hot water cylinder for hot taps and showers within the facility.
Together, these features will reduce the demand for energy from the new facility at Edmonton EcoPark ensuring the energy generated can be retained and used on site as far as it is practicable to do so. The carbon emissions for EcoPark House will be reduced by more than 10% and renewable energy will provide 100% of the total energy used at EcoPark House. This is just one of the ways NLWA are reducing the environmental impact of the North London Heat and Power Project.
The sustainable education and visitor's centre will also be home to Edmonton Sea Cadets. The Sea Cadets previously met at the wharf on the River Lee Navigation and used an old 1940s tin building there. Our project will secure the location's continued community use for the Edmonton Sea Cadets. Based in Edmonton since 1942, the Sea Cadets celebrate Britain's maritime heritage and contribute to its future development by supporting young people. There will also be pre-arranged EcoPark tours from the centre – including a safe and engaging walk around the site – to give the local community a chance to see how we will generate heat and power from the waste left after recycling.
The North London Heat and Power Project as a whole, is helping to tackle the Climate Emergency that has been declared by north London's boroughs. The project is expected to have a positive impact on the environment by diverting waste from landfill and increasing recycling rates in north London to 50% by delivering a sustainable hub for waste management. Sustainability and the consideration of carbon impact is at the forefront of the construction of the North London Heat and Power Project; an off-grid education and visitor's centre is just one contribution to this.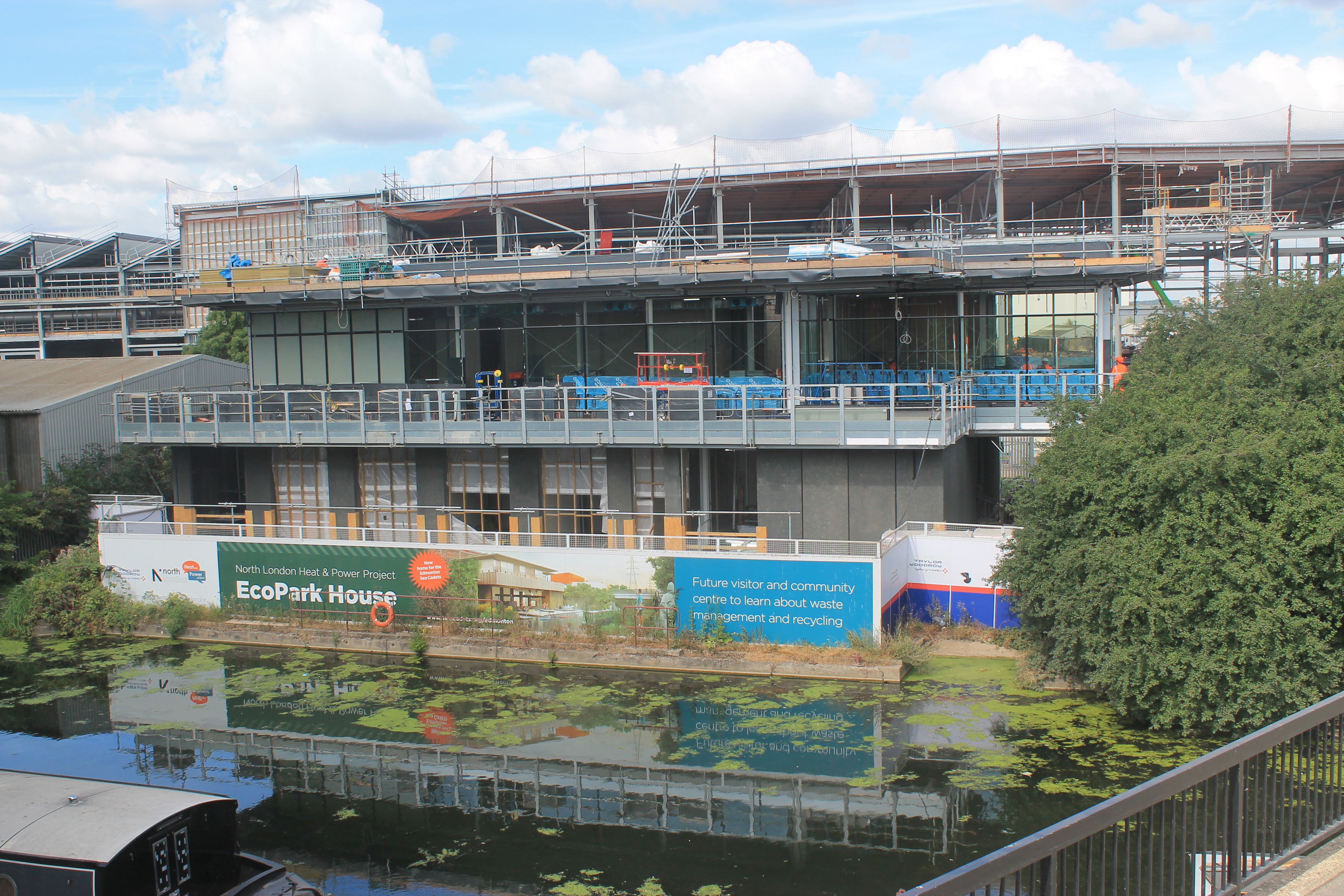 EcoPark House, located on Edmonton EcoPark adjacent to the River Lee Navigation
Share