NLHPP's main contractor achieves Considerate Constructors Scheme Ultra Site status
NLHPP's main contractor for EcoPark South, Taylor Woodrow, has achieved Ultra Site status from the Considerate Constructors Scheme (CCS), with the aim of being a 'Beacon of Best Practice' in the construction industry.
With a score of 45/50, the site has secured Ultra Site status meaning it is exceeding the Scheme's Code of Considerate Practice by demonstrating and promoting the highest standards in the following areas:
Caring about site appearance
Respecting the community and minimising impact on neighbours
Protecting the environment
Attaining the highest levels of health and safety
Valuing the workforce by creating a supportive and caring work environment
Taylor Woodrow are building new flagship facilities including a Resource Recovery Facility, which will be one of the largest publicly owned facilities of its kind in London with capacity to manage up to 135,000 tonnes of material every year, as well as the EcoPark's first public Reuse and Recycling Centre. A new visitor and education centre known as EcoPark House will provide a space for the community to learn more about waste management and recycling.
The CCS monitor's comments included: "The site is addressing all five sections of the Code of Considerate Practice to an exceptional standard…Community arrangements are impressive: onerous social value targets are in place and a programme of local school and college interaction is already thoroughly established. The site has stringent environmental performance targets and monitoring procedures in place and comprehensive environmental information promotion takes place to both the workforce and the public.
"There is an obvious commitment to caring for everyone's safety…and particularly thorough arrangements in place for the reporting, review and close-out of accidents, incidents and close calls…It is great to see that #loveconstruction is being promoted and that the site has had contributions published on the Best Practice Hub. It was a pleasure to visit this fantastic project."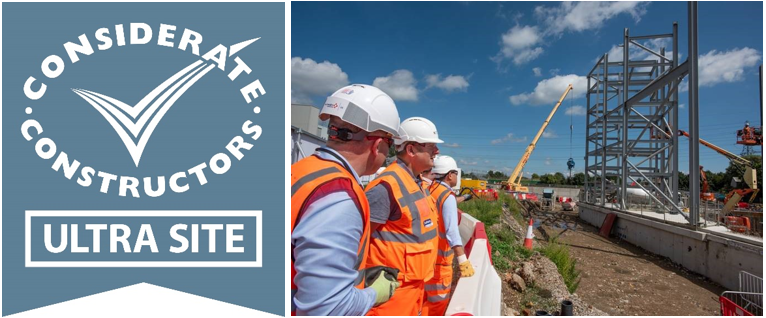 Share