NLHPP launches second round of funding to support communities across north London
Community groups across north London will benefit from funding and volunteering hours in the second round of the North London Heat and Power Project's (NLHPP) community initiative, RE-Power Communities.
RE-Power Communities was established by ACCIONA - the lead contractor for the Energy Recovery Facility. The scheme will support community groups in the London boroughs of Barnet, Camden, Enfield, Hackney, Haringey, Islington and Waltham Forest, through small grants, volunteer time and donation of resources.
The support for community projects is a vital part of ACCIONA's social value commitment, which will benefit local people and communities in response to NLWA's social value strategy for the NLHPP. The successful Re-Power Community groups will be selected on their ability to achieve at least one of the following outcomes:
Places and spaces that matter to communities are improved
People are helped to reach their potential
Vulnerable people within the community are supported
Community networks that respect cultural diversity are strengthened
A legacy of stronger and more connected communities is achieved
Local environments and biodiversity are enhanced
People are supported to increase green skills and tackle climate change

This is the second round of applications for the Community Fund (small grants up to £2,000) and TimeBank (Voluntary hours). Applications for the Community Fund and/or TimeBank are now open until September 29th, 2023. 
Applications can also be made for an on-site ResourceBank, which enables groups to receive materials or donated items for community projects such as wood. More details are available on the project's dedicated Re-Power Communities website page.
Online drop-in sessions will be running to support community organisations with their applications. Details about the drop-in sessions are available on our project website.
In the first round of the initiative which was launched last year, 15 organisations were successful. This included local groups which support disadvantaged young people at risk, charities working with people with disabilities and those working to improve greenspaces. Organisations supporting career and training development were also successful as were initiatives that provide food packages to support local families who are struggling financially due to the cost-of-living crisis. The full list of successful organisations from the first round of RE-Power Communities is available on our project website.
The scheme strengthens the existing social value offering for the community. North London Heat and Power Project has already enabled 37 apprenticeships at London Living Wage, 158 skills training placements and a programme engaging with schools to boost interest in construction related careers.
Image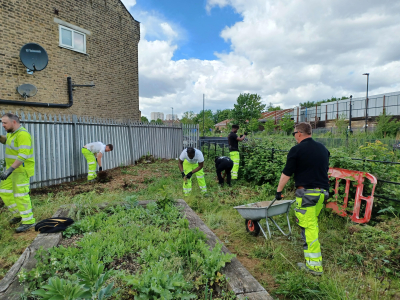 Share