Major construction works complete on the NLHPP to make way for brand new recycling facilities for north London
North London Waste Authority (NLWA) is pleased to announce the completion of its latest construction contract as part of delivering a brand-new sustainable waste hub, the North London Heat and Power Project (NLHPP).
In September, the Sewer Diversion works were completed by contractor Barhale which has made room for flagship recycling facilities to be brought forward, as well as a major upgrade to the existing sewer system which residents of Barnet, Camden, Enfield, Hackney, Haringey, Islington and Waltham Forest will benefit from.
Barhale has been carrying out complex engineering works to divert two Thames Water sewers, the Angel and Chingford, which run beneath the future Resource Recovery Facility (RRF) and public Reuse and Recycling Centre (RRC). 
Clyde Loakes, Chair of NLWA said, "I am delighted to see yet another major construction milestone reached on the NLHPP programme. These works represent a major step in delivering flagship recycling facilities to help drive our household recycling rate to 50%. It is great to see that this contract was delivered to time and budget, whilst also creating valuable employment opportunities for north London residents."
NLHPP is NLWA's plan for a new sustainable waste hub in Edmonton which will provide the most modern and advanced waste management and recycling facilities for north London's two million residents. The multi-million pound investment to upgrade the existing sewer system has ensured that north London residents will continue to be served by reliable sewer infrastructure for years to come. The upgrade was essential in order to make way for brand new flagship recycling facilities in north London.
During the design phase of the works, Barhale identified an opportunity to employ innovative construction methods which ensured that the works were completed ahead of schedule. Two 15 tonne Tunnel Boring Machines (TBMs) were used to bore the tunnels for the new sewers. Barhale designed a novel tunnel drive shaft which used two pipe jacks from a single shaft at the same time. Pipe jacking is a method of tunnelling by which sections of pipe are laid behind the TBM cutting head and pushed under very high jacking forces to drive the tunnel forward laying the new sewer at the same time. By using this innovative technique, Barhale was able to recycle water through both TBMs to reduce the amount of water required to complete the task by 65%.
Jacques Deneys, Project Manager from Barhale said, "We are really proud of being part of this hugely important project for London which will set new standards for waste management and sustainability. Much credit must go to the team for the hard work, engineering know-how and innovation they contributed – not least in the completion of the double simultaneous pipe jack. Their application made sure that a tricky construction bottleneck was cleared on schedule and allows the whole project to remain on track."
As part of the Sewer Diversion works, Barhale took on two apprentices and 11 trainees, who all developed their skills in construction. Upon completion of the training placement, trainees received a certificate from each of the courses, accreditations in BTEC Level 1 health and safety in the construction industry and a Construction Skills Certificate Scheme (CSCS) card. This is part of the NLHPP's wider commitment to delivering benefits for the local community including an industry leading apprenticeship programme of at least 100 apprenticeships and at least 225 on-site training placements.
NLWA is bringing forward the most significant public sector investment in recycling infrastructure that north London has seen for a generation. Once built, the RRF will be one of the largest publicly owned facilities of its kind in London which will have capacity to manage 135,000 tonnes of recyclable material every year. It also includes a public RRC that will allow north London residents and businesses to bring their recycling direct to the EcoPark for the first time ever, which is part of NLWA's commitment to help drive up north London's household recycling rates from 30% to 50%.
The NLHPP is also delivering an Energy Recovery Facility (ERF), which will use non-recyclable waste as a valuable resource to generate 78 megawatts of electricity. It will have the capacity to provide low carbon heating and hot water to 20,000 local homes in the Meridian Water Heat Network, with the capacity to supply up to 50,000 connections to the network across the borough and beyond.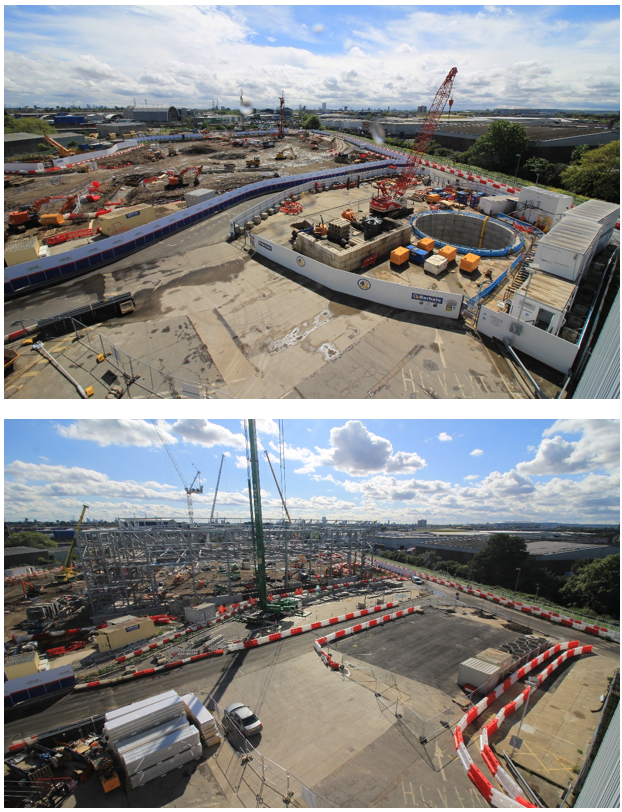 Share