Hundreds of new jobs certain as contract signed for one of London's most significant public infrastructure projects in decades
North London Waste Authority (NLWA) yesterday, 24 January 2022, signed the contract to build the UK's most advanced Energy Recovery Facility with the infrastructure and renewable energy developer, ACCIONA.
The contract signing ensures the creation of hundreds of skilled jobs including at least 418 full time roles, 180 training placements and 90 apprenticeships, bringing life-changing career opportunities for local people. These new positions are in addition to hundreds of roles already created to take the project to this point.
The public owned Energy Recovery Facility (ERF) will transform unhygienic black-bin-bag waste into electricity for up to 127,000 homes and heat and hot water for up to 50,000 local homes, eliminating the need for gas boilers. It will prevent black-bin-bag waste from ending up in landfill, where it generates methane, a greenhouse gas, which has warming impact 30 times greater than CO₂. It will also save the equivalent of 215,000 tonnes of CO₂ each year, as beneficial as taking 110,000 cars off the road.
The ERF forms part of a £1.2 billion* investment in Edmonton in Enfield known as the North London Heat and Power Project (NLHPP), which will serve seven north London boroughs[i]. It includes state-of-the art recycling and waste facilities with the most advanced technology in the world. The new facilities will replace a single energy-from-waste plant on the 16-hectare site, which began operating in 1971 and is now Europe's oldest.
NLWA's chair Cllr Clyde Loakes said: "With contracts signed and sealed with ACCIONA, work now begins on the next stage of one of the most sustainable and nationally significant projects ever to tackle waste and increase recycling rates, and one which greatly boosts employment opportunities in the area.
"ACCIONA will expertly build the ERF section utilizing the world's best tech including Selective Catalytic Reduction technology, which converts the nitrogen oxide created by incinerating waste into water and nitrogen, a harmless gas that makes up 78% of the Earth's atmosphere. It's the same tech used at the Amager Bakke/Copenhill ERF in Copenhagen, recently featured in the BBC's Earthshot Prize and which even has a dry ski slope on the exterior because the pollution controls are so effective.
In parallel with the project, NLWA's focus continues apace on preventing waste in the first place by urging Government and business to make vital systemic changes and through ongoing community engagement. NLWA is leading the way on recycling too, dealing with difficult items such as mattresses and expanded polystyrene as well as ensuring recyclable plastic is processed only in the UK."
NLWA has spent over eight years specifying an ERF that exceeds statutory requirements on environmental standards as well as on due diligence to ensure value for money. Building the ERF saves an estimated £20 million a year or £1 billion over its life to the boroughs if waste had had to be disposed of via third parties. In December, NLWA also secured funds for the first stage of works on the ERF with a loan of £280 million at extremely low interest rates from the Public Works Loan Board, financing that only a public body can access.
NLWA is ensuring that the facility will be able to install carbon capture after 2030, aligned with the development of a south-east industrial cluster and well ahead of the 2050 backstop for all energy-from waste facilities as advised by the Climate Change Committee in the Sixth Carbon Budget. NLWA can also ensure that the ERF will never undermine recycling or create a demand for rubbish as NLWA can run the ERF at a lower capacity when systemic change reduces waste in future.
* in 2019 cash prices.
[i] NLWA is the statutory waste authority serving the London boroughs of Barnet, Camden, Enfield, Hackney, Haringey, Islington, and Waltham Forest.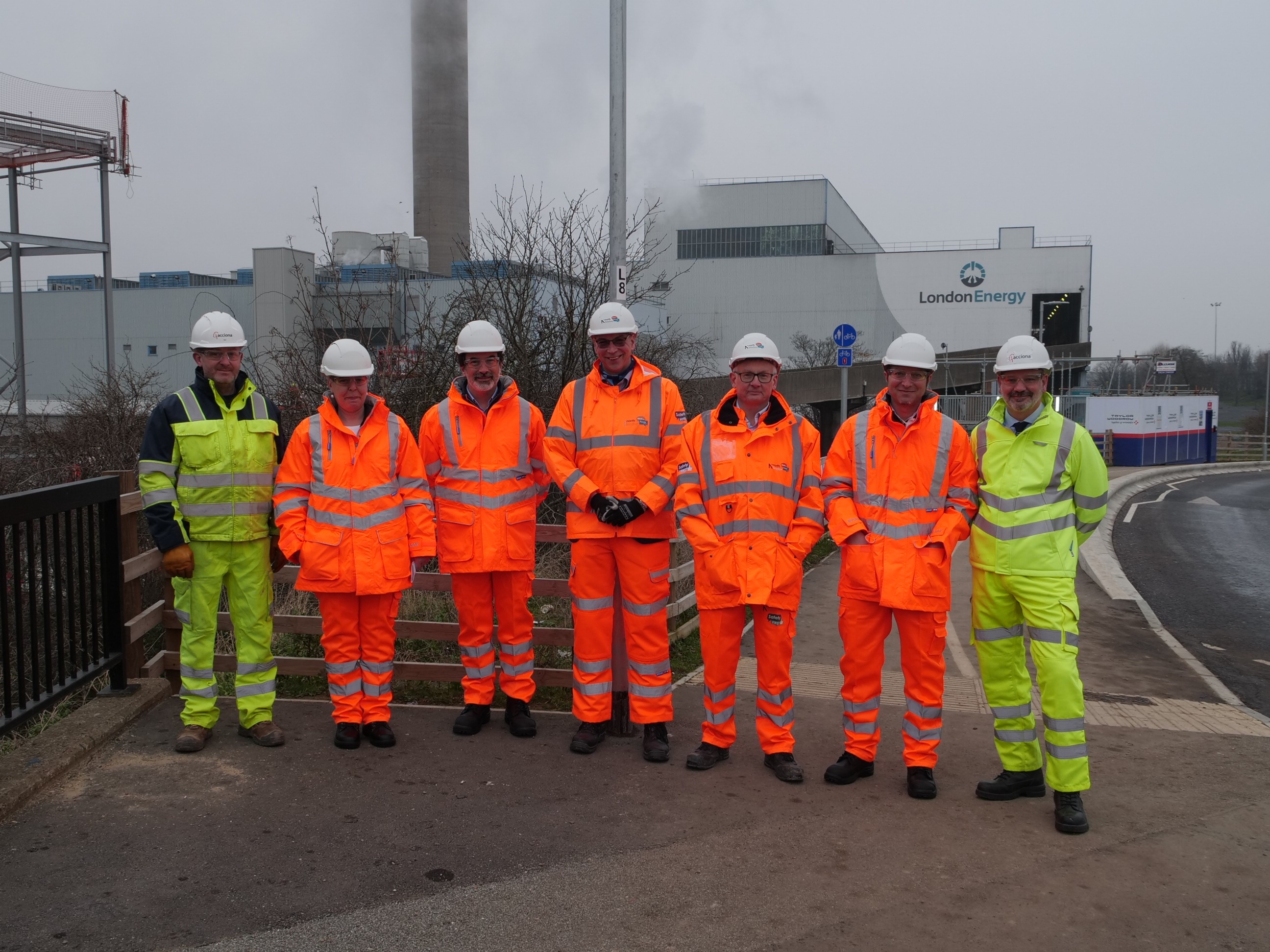 NLWA and ACCIONA representatives outside the old energy from waste facility which will be replaced with a new Energy Recovery Facility which ACCIONA has signed the contract to deliver. Left to right: Ian Hough, María de los Reyes Pardo, Carlos Ledesma, Martin Capstick, David Cullen, Ignacio González, Andrew Bendall.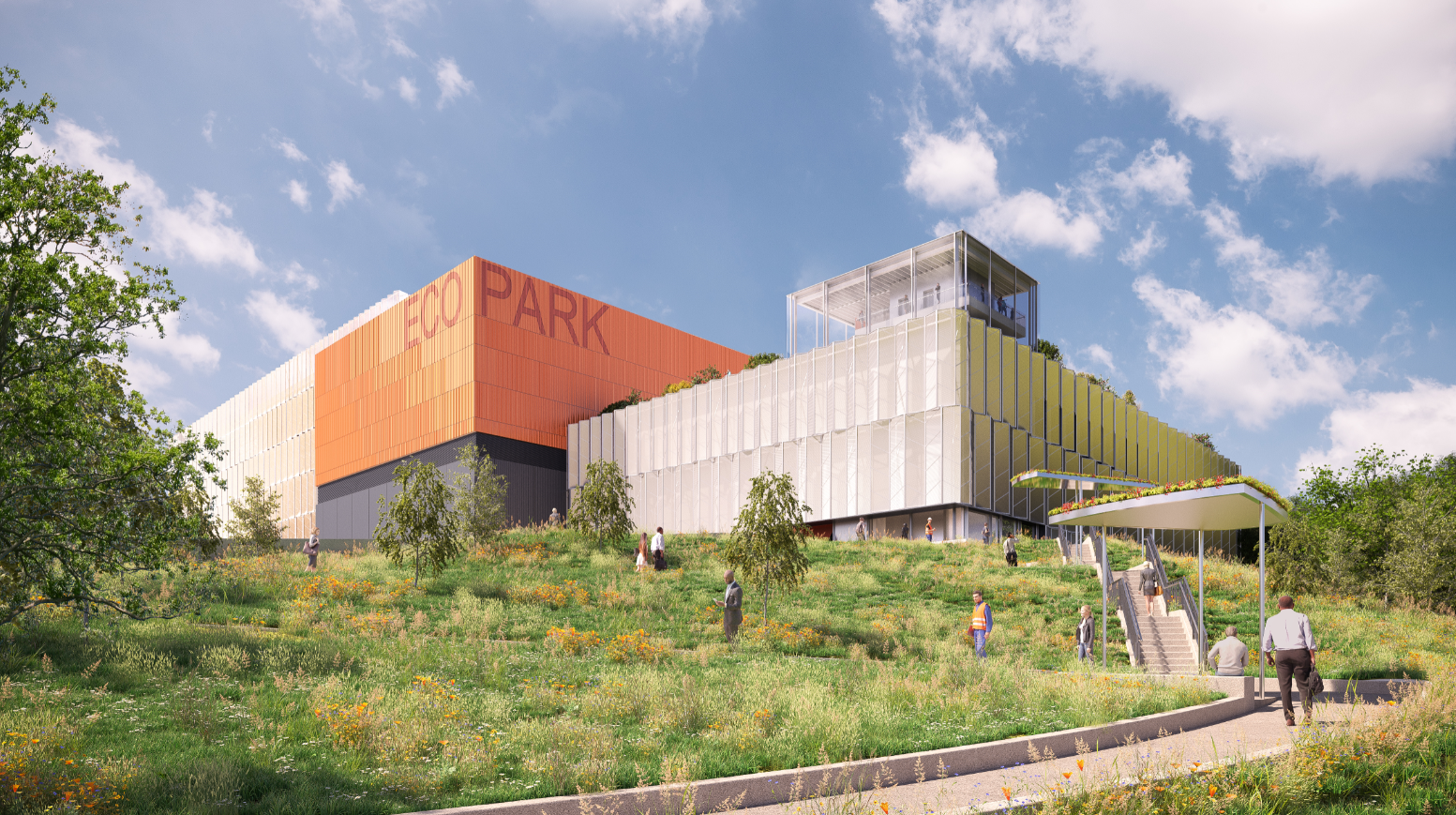 Indicative image of the Energy Recovery Facility
Share