Delivery of flagship recycling facilities at Edmonton EcoPark reach next phase of construction
This month, construction of the external structure of a new Resource Recovery Facility (RRF) and public Reuse and Recycling Centre at Edmonton EcoPark started, representing the most significant investment in recycling infrastructure north London has seen for a generation.
The construction milestone is part of the North London Heat and Power Project (NLHPP) – a nationally significant infrastructure project being delivered by North London Waste Authority (NLWA) to help boost recycling rates and drive a Net Zero future in north London.
Over the next four months, contractor Taylor Woodrow will use nearly 3,000 tonnes of steel to construct the RRF which will be one of the largest publicly owned facilities of its kind in London. Once complete later next year, the RRF will have capacity to recover an extra 135,000 tonnes of recyclable material every year that would have otherwise been disposed of. As part of the RRF, a public Reuse and Recycling Centre is being built which will allow north London residents to bring their household recycling to the EcoPark for the first time ever. This is part of NLWA's commitment to help drive up north London's household recycling rates from 30% to 50%.
Clyde Loakes, Chair of NLWA said, "I was delighted to visit the EcoPark this week to see the first pieces of steelwork be put in place for the new Resource Recovery Facility and public Reuse and Recycling Centre."
"This major milestone is part of our investment in recycling infrastructure which is the most significant north London has seen for a generation, to help boost household recycling rates to 50%."
"I was fortunate to meet a group of apprentices who are kickstarting their careers working on our nationally significant infrastructure project. It was fantastic to hear about the work they are involved in and the skills they are developing."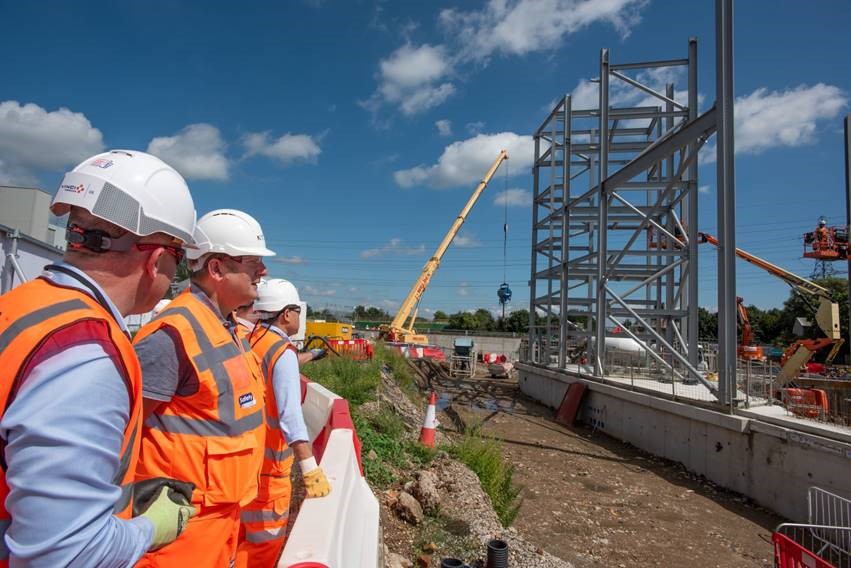 In addition to the RRF and public Reuse and Recycling Centre, Taylor Woodrow are contracted to build a new visitor and education centre on the River Lee Navigation known as EcoPark House. Here, the community will be able to learn more about waste management and recycling, and how to reduce the carbon impact of their waste. It will also provide a new modern home for the Edmonton Sea Cadets.
Steve Pate, Project Director of EcoPark South for Taylor Woodrow said, "Following successful completion of groundworks, piling and reinforced concrete operations, the start of steelwork marks an exciting milestone for the project. The coming weeks will see the buildings for this this flagship facility really start to take shape."
The NLHPP is providing hundreds of life changing opportunities for young people in the local area, including up to 100 skilled apprenticeships and 225 on-site training placements at a time when they are most urgently needed. So far, 10 apprentices have been appointed to work on the RRF, public Reuse and Recycling Centre and EcoPark House. Five of the apprentices are from the borough of Enfield, two from the borough of Waltham Forest and one from the borough of Haringey. In addition, 27 on-site training placements have been created as part of this package of works, helping local people to get hands-on experience and working towards obtaining a Construction Skills Certificate Scheme (CSCS) card. NLHPP apprentice, Hamish Bellinger from Waltham Forest said, "Since beginning my journey on the NLHPP with Taylor Woodrow, I have found myself developing new and improved skills, and constantly expanding my knowledge".  Apprentice Joe Wheeler from Enfield said, "I am very lucky to have joined the NLHHP apprenticeship scheme with Taylor Woodrow and enjoy every day at work with support from my teammates".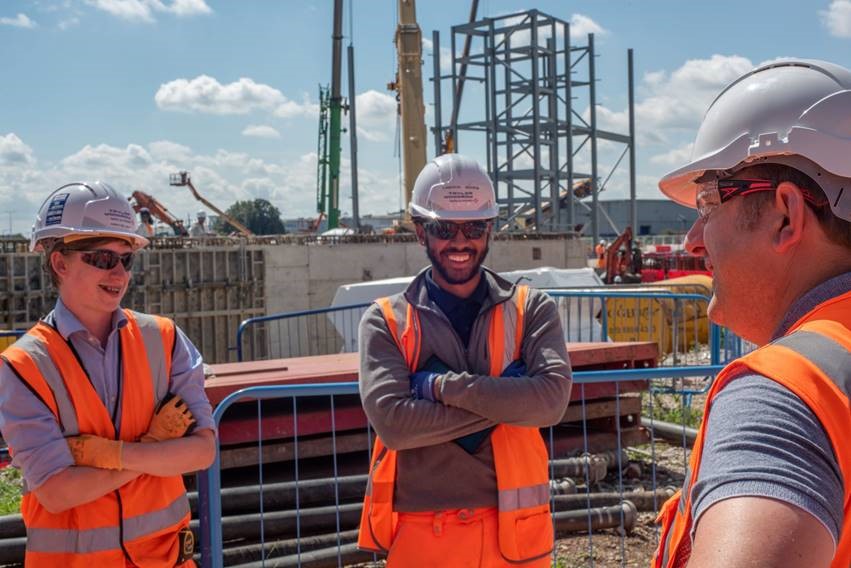 As well as jump-starting vital green infrastructure to tackle the Climate Emergency, the RRF has been designed to the highest standards for minimal environmental impact. The position of the RRF has been chosen to maximise the benefits of renewable solar energy to power the new facilities. Solar panels on the roof will be located at the optimum angle to capture energy from the sun's rays to generate renewable electricity to supply power for the RRF and office facilities. During construction, Taylor Woodrow used an innovative piling technique to construct the foundations of the future buildings which reduced the embodied carbon in the original scheme design by 10-16%. Taylor Woodrow are also developing innovative solutions and renewable technologies to greatly minimise the energy demand for the new EcoPark House.
As well as delivering recycling facilities, NLWA has a plan for waste that can't be recycled. From 2022 construction will start on a new world-class Energy Recovery Facility which will divert up to 700,000 tonnes of waste from landfill every year and unlock one of the largest low-carbon district heat networks in London. Using non-recyclable waste as a resource for society, the ERF will generate efficient, low-carbon heat and power for local homes and the country's National Grid and ensure residents' waste stays out of landfill in the future.
Share