20,000 north London homes to benefit from one of the UK's largest district heat networks
Earlier this year, a major positive step was taken by Energetik, North London Waste Authority (NLWA) and LondonEnergy Ltd to guarantee low-carbon heating and hot water supply for thousands of homes in Enfield.
As part of NLWA's plan for a new sustainable waste hub at Edmonton EcoPark, the North London Heat and Power Project (NLHPP) will provide a world-class Energy Recovery Facility (ERF), diverting north London's non-recyclable waste from damaging landfill sites. Instead, the waste will be used as a valuable resource to produce low-carbon heat for Energetik to distribute to local residents' benefit via one of the UK's largest district heat networks, reducing their carbon emissions from heat by up to 92.3% compared to a traditional gas boiler system.
Over the last eight months, Energetik have made significant progress on construction of the district heat network and energy centre. When complete, Energetik will capture and use up to 60MW of otherwise untapped heat energy to serve at least 20,000 homes across Enfield, with the capacity to supply up to 50,000 more homes and businesses in the borough and beyond.
Councillor Clyde Loakes, Chair of NLWA said, "The delivery of one of the UK's largest district heat networks as part of the North London Heat and Power Project is vital in our efforts to tackle the Climate Emergency. I am thrilled that north London residents will benefit from this significant investment through low-carbon heating and hot water district to their homes and businesses."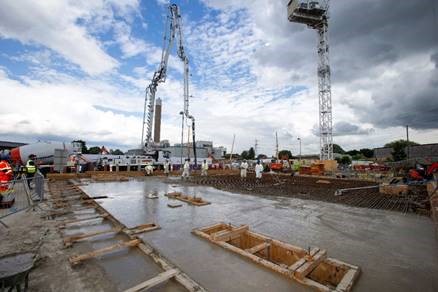 This year, £49 million of additional funding was granted to Energetik to enable further expansion of the network. This will enable more north London residents to benefit from Energetik's district heating network, allowing an extension north and west of Meridian Water to supply north London with low-carbon heat for many decades.
In addition, funding via a grant provided by the Greater London Authority (GLA) will enable an increase to the network capacity from Energetik's energy centre, ensuring greater capacity for cross-borough extensions; and a retrofit pilot project in Ponders End that will connect existing homes to the heat network. The retrofit pilot project will be used to provide valuable experience with respect to rolling out larger scale retrofit schemes across Enfield and beyond.
Share