Biodiversity at the EcoPark
A detailed plan for managing construction will be followed by all site workers to minimise impacts on all surrounding wildlife, including bats.
Sensitive lighting will be installed along Lee Park Way to maintain a dark corridor along the River Lee Navigation and minimise disturbance to bats. The lighting columns will have a low lux lighting level, as well as motion sensors, so that the lights only turn on when Lee Park Way is in use by vehicles or pedestrians / cyclists.
The North London Heat and Power Project will connect landscapes and help to integrate the project with Lee Valley Regional Park.
The design elements include green and brown planted roofs on the new Energy Recovery Facility, native tree and shrub planting, grassland and meadow planting in the EcoPark, as well as native marginal planting along Enfield Ditch. Our approach will help create a high-quality landscaping scheme that maximises ecological enhancement and sustainable water management.
The design will also enhance and revitalise the experience of walking along the tow path of the River Lee Navigation. The design also considers the industrial Eley Estate to the west.
Image

Planters and Rainwater Harvesting 
As an operational industrial site, opportunities to enhance biodiversity at NLHPP are limited. We identified an opportunity for small moveable green infrastructure to create pocket gardens on site, linking with the community to build the planters. 
Recycling timber from the wood skip on site, we built planters for perennials and shrubs in the area, along with rainwater harvesting facilities to water the plants. With support from local young people with special education needs and disabilities, we planted flowers such as Marigold, Sweet Peas and Sweet Williams which will support insect life. 
The value of this innovation:
Enhancing Biodiversity and Ecology
Promoting Environmental Protection
Promoting Circular Economy Principles
Image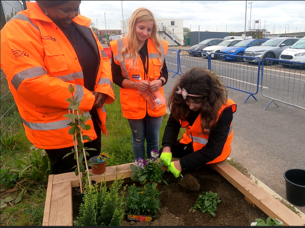 Image

Hibernacula
On EcoPark South, we created hibernacula out of unwanted wood, using existing vegetation to create a habitat for amphibians and reptiles to use throughout the winter to protect themselves from the cold. 
Connecting this hibernacula to the woodland on site provides a safe green corridor for wildlife on site to rest and take shelter.  
The value of this innovation:
Enhancing Biodiversity and Ecology
Promoting Environmental Protection
Promoting Circular Economy Principles
Image