Construction starts on £100m recycling facilities at Edmonton EcoPark in north London

Major works start this month at Edmonton EcoPark to bring forward brand new recycling facilities as part of North London Waste Authority's (NLWA) plan for a new sustainable waste hub - the North London Heat and Power Project (NLHPP).
Over the next two years, NLWA's contractor Taylor Woodrow will construct a Resource Recovery Facility (RRF), which will be one of the largest publicly owned facilities of its kind in London with capacity to manage 135,000 tonnes of recyclable material every year, as well as a public Reuse and Recycling Centre, allowing north London residents and businesses to bring their recycling direct to the EcoPark for the first time ever. This is part of NLWA's commitment to help drive up north London's household recycling rates from 30% to 50%.
Construction enabling works started on the NLHPP two years ago and the new recycling facilities mark the start of the first phase of major construction on the Project. During this initial phase, a new community facility is being built known as EcoPark House. It will provide a new home for Edmonton Sea Cadets, as well as a community space for local residents to use.
Clyde Loakes, Chair of NLWA said, "2021 is a landmark year on the North London Heat and Power Project. I am delighted to see construction works starting on these essential facilities to enhance our service to north London residents, allowing them to recycle more".
"Our major green infrastructure project goes hand in hand with our pioneering action to reduce waste and boost recycling and is more important than ever as we lead the way to achieve Net Zero in north London".
Steve Pate, Project Director of EcoPark South for Taylor Woodrow said, "We are excited to have achieved this first major milestone and begin construction on this flagship facility. Driven by a passion for innovation, we look for projects that challenge our thinking and enable us to add value. At EcoPark South there is a lot of potential for solutions that will significantly add to the energy efficiency of the project, and we look forward to working with NLWA to develop and implement these."
Taylor Woodrow's team mobilised at the EcoPark in January ready to carry out demolition and groundworks, ahead of piling works starting in March. Joining the Taylor Woodrow team are seven apprentices from the local area undertaking training in highly skilled roles in quantity surveying and civil engineering. One of the apprentices, Joe Wheeler age 19 from Enfield said, "I am looking forward to being part of a project that will be here for years to come delivering benefits to the environment and local community". Taylor Woodrow will be taking on more apprentices as construction progresses.
The NLHPP is providing hundreds of life changing opportunities for young people in the local area, including up to 100 skilled apprenticeships and 225 on-site training placements at a time when they are most urgently needed.
As well as jump-starting vital green infrastructure to tackle the Climate Emergency, the new recycling facilities have been designed to minimise their environmental impact. The position of the RRF building has been chosen to maximise the benefits of renewable solar energy to power the new facilities. Solar panels on the roof will be located at the optimum angle to capture energy from the sun's rays to generate renewable electricity to supply power for the RRF and office facilities. During construction, Taylor Woodrow will be using an innovative piling technique to construct the foundations of the future recycling facility buildings. This technique will reduce the embodied carbon in the original scheme design by 10%. Taylor Woodrow are also developing innovative solutions and renewable technologies to greatly minimise the energy demand for the new Eco Park House.
As well as delivering new recycling facilities, NLWA has a plan for waste that can't be recycled. From 2022 construction will start on a new world-class Energy Recovery Facility which will divert up to 700,000 tonnes of waste from landfill every year and unlock one of the largest low-carbon district heat networks in London. Using non-recyclable waste as a resource for society, the ERF will generate efficient, low-carbon heat and power for local homes and the country's National Grid and ensure residents' waste stays out of landfill in the future.
NLWA continues to respond to the COVID-19 pandemic in line with guidance set by the Construction Leadership Council and Public Health England to ensure the safety and protection of the workforce.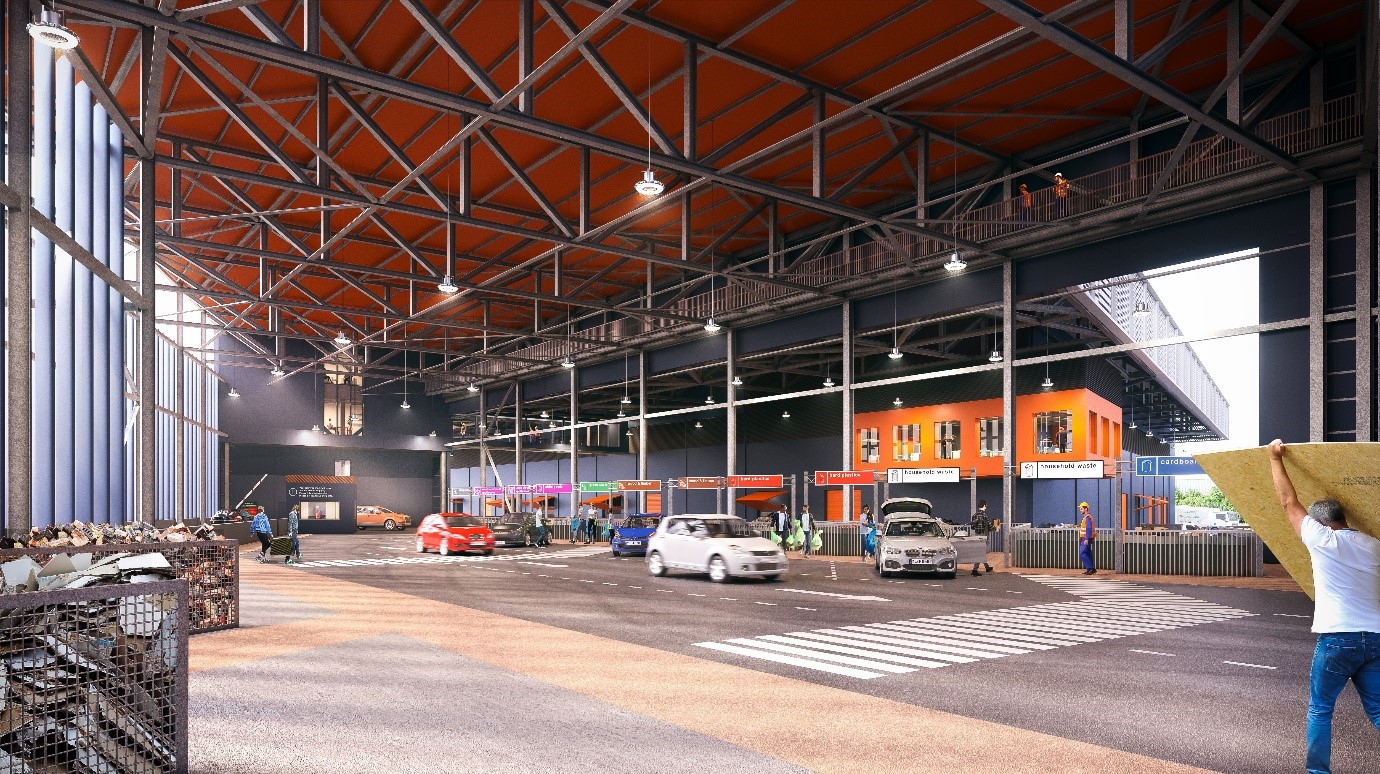 Share