Air Quality
The Energy Recovery Facility (ERF) will use world-class, proven technology to capture and control pollutants.
The Air Quality Expert Group is clear that, in contrast to these sources, energy recovery facilities are highly effective at filtering ultrafine particles. It states that: "There have been a number of studies of municipal waste incinerators which show highly effective removal of UFP by their pollution control systems".
In 2016 a peer-reviewed academic study from the University of Birmingham examined the emissions of ultrafine particles from energy from waste facilities. It found that:
After dispersion and dilution, the level of UFPs is indistinguishable from those that would occur in the absence of an incinerator
In some cases, the ultrafine particle concentration in the flue gas may be below that in the local ambient air
For more information, please see the Air Quality Expert Group's 2018 report Ultrafine Particles (UFP) in the UK. The report was prepared for the Department for Environment, Food and Rural Affairs.
The existing Energy from Waste facility already operates under a strict Environmental Permit issued by the Environment Agency. Our existing plant operates well within the rigorous limits, operating at 40% below limits for nitrogen oxide (NOx) emissions set by the Industrial Emissions Directive (IED). Ongoing monitoring is available to view on LondonEnergy Ltd's website. Our new ERF will perform even better, at 60% below IED limits. It will be one of the cleanest and safest facilities in the country, using advanced and proven technology to capture and clean emissions.
Image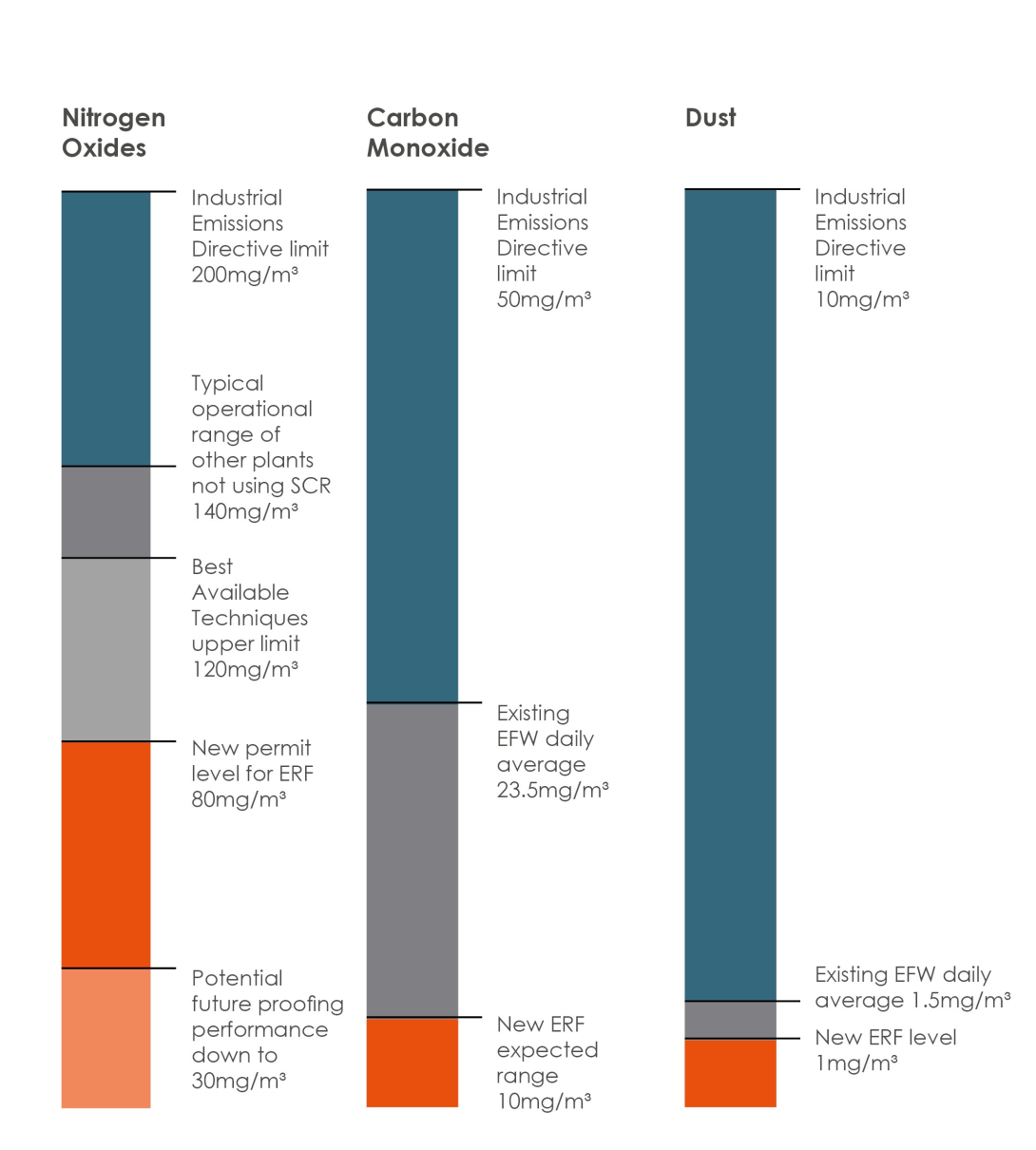 Our ERF will be the first energy recovery facility of its kind in the UK to benefit from Selective Catalytic Reduction, which is a world-class technology for controlling emissions of nitrogen dioxide. This process converts nitrogen oxide into water and nitrogen (a harmless gas that makes up 78% of the Earth's atmosphere).
The graph below shows the source of NOx levels across north London. Even at the peak level of NOx from the ERF, this is only 2.94% of local air quality concentrations, compared to road transport which is responsible for 30.05% of NOx concentrations. The graph on sources of NOx can also be viewed in larger format.
Image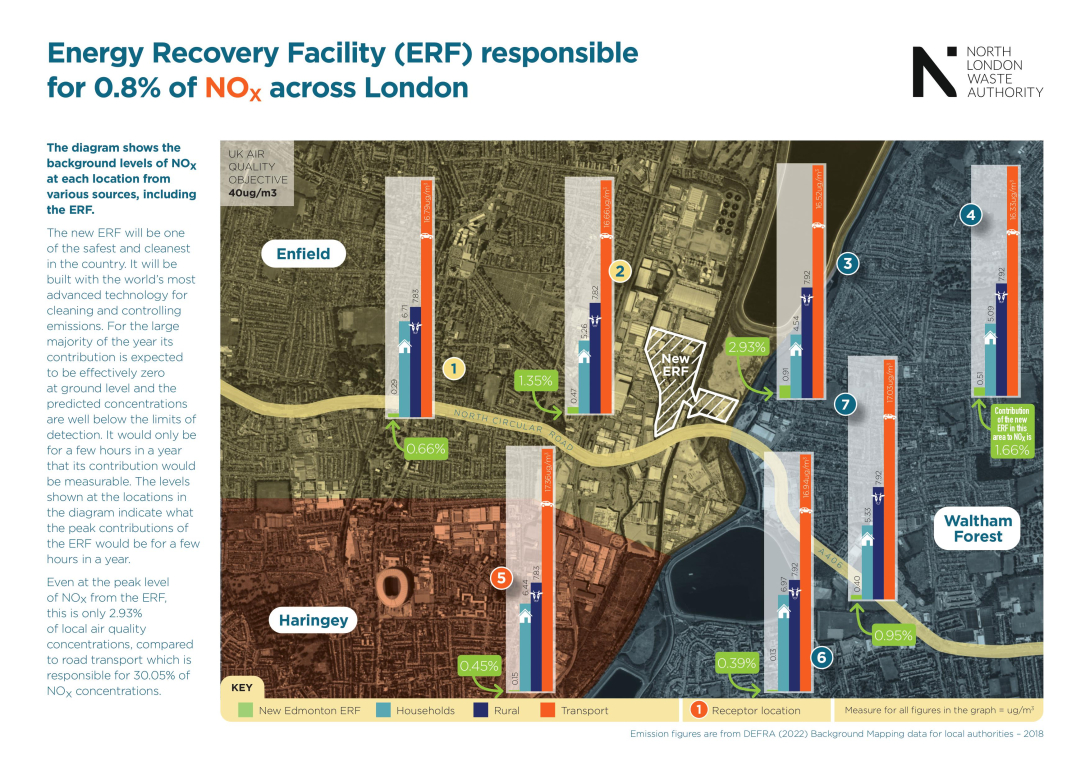 Following the example of advanced Scandinavian ERFs, it will be the first energy recovery facility in the UK to have a combined dry/wet scrubber. This provides an extra stage to the cleaning process, to give a 'final polish' to the gas before it's released from the stack. A liquid is sprayed to neutralise gases and make doubly sure that particulates are captured.
The graph below shows the source of particulate matter (PM) levels across north London. Even at the peak level of PM from the ERF, this is only 0.52% of local air quality concentrations. This is 400 times lower than the level set by the UK air quality objective. The ERF will operate at almost 1000 times lower than safe limits for particulate concentration recommended by the World Health Organisation. The graph on PM can be viewed in larger format.
Image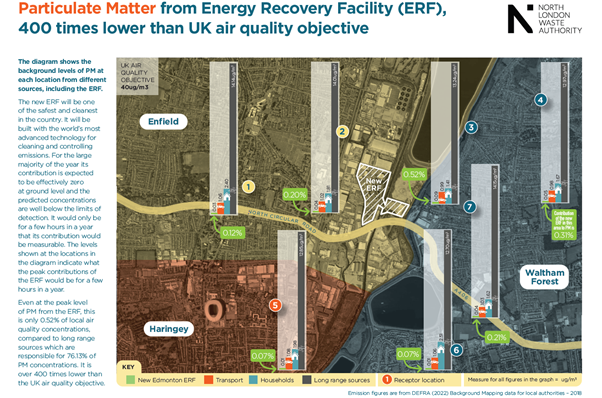 The graphic below shows the five-stage cleaning process. The cleaning process graphic can be viewed in larger format.
Image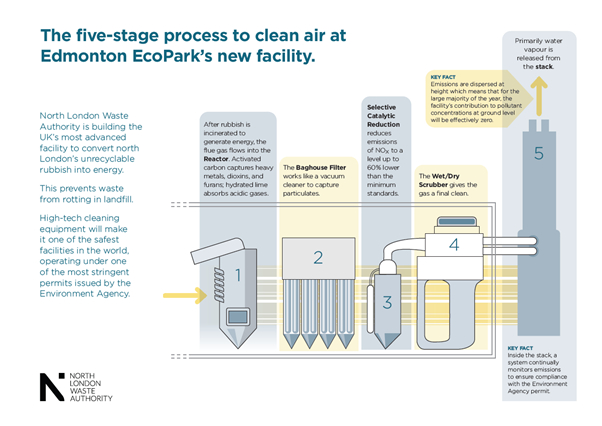 We carried out an extensive Air Quality Impact Assessment as part of the Development Consent Order (DCO), which considered all the relevant emissions related to the energy recovery process. It shows categorically that no concentrations of pollutants from the facility will breach any air quality or public health standards.
We are also following the guidance of scientific evidence on air pollution from numerous current studies, as laid out below:
Image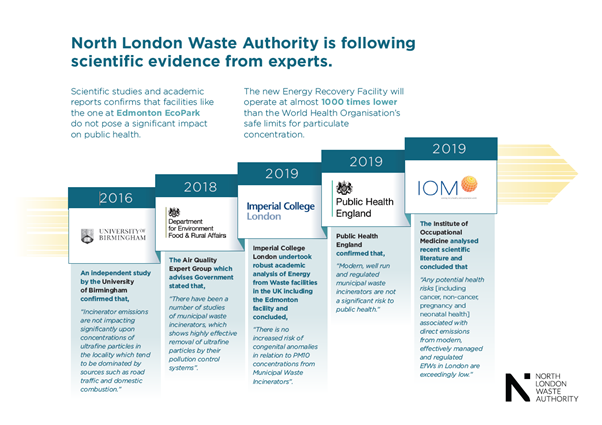 Further information is available about health and emissions  and the ERF Air Quality Emissions.
Image

Reducing Plant Idling - Monitoring and Statistics
Our air quality specialists reviewed use of an excavator and telehandler on site and identified that there was an opportunity to reduce idling periods, which contributed to between 9-22% of the total NOx and PM10 emissions from the monitored non-road mobile machinery. 
To overcome this, we launched an education campaign for drivers on the environmental benefits of switching off their engines. Operatives were encouraged to minimise plant idling, and they responded positively to bring change to the site and beyond. 
The value of this innovation:
Effectively Managing Emissions to Air 
Improving Air Quality 
Driving Carbon Reduction
Reducing Costs
Increasing Environmental Awareness
Image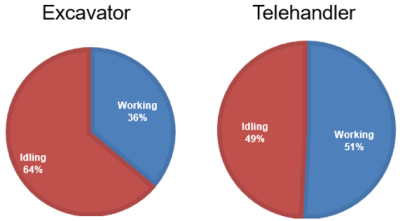 Image

Zero Emission Plant
Electric-powered tower lights and a hybrid mobile tower crane were used instead of traditional operation using diesel generators and engines, during construction of part of the NLHPP. These initiatives delivered carbon savings, reduced air and noise pollution and saved the need to purchase diesel. 
LED lighting towers have also been used, which require up to 40% less energy in comparison to traditional lighting towers. 
The value of this innovation: 
Effectively Managing Emissions to Air 
Improving Air Quality 
Driving Carbon Reduction
Reducing Costs
Increasing Environmental Awareness 
Reducing Noise and Vibration 
Image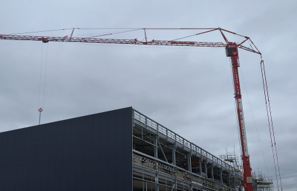 Image