Circular Economy
Our key priority is to encourage north London residents to reduce their waste and reuse materials. This is essential to tackle consumption-based carbon emissions in the face of the Climate Emergency. Where waste is produced, we provide maximum opportunity for our residents to recycle. We set up waste prevention campaigns to make exactly this point. 
The circular economy is a better way to make the most out of the planet's resources than a linear economy (make, use, dispose). In a circular economy, we keep resources in use for as long as possible, extract the maximum value from them whilst in use, then recover and regenerate materials when they have reached the end of their life.
The North London Heat and Power Project (NLHPP) is a major investment in infrastructure for the circular economy. It will deliver state-of-the-art recycling facilities for our residents and boroughs. This includes a brand-new public reuse and recycling centre which will allow our residents and businesses to bring their waste directly to the EcoPark for reuse and recycling for the first time.
We expect our new recycling facilities to have capacity to manage 135,000 tonnes of recyclable materials every year – including wood, plastics and metal.
Our new Energy Recovery Facility (ERF) will mean that we can continue to use non-recyclable waste as a resource for society – instead of sending it to landfill. The ERF will produce low-carbon heat and power for up to 127,000 homes, shops and businesses, an increase of 55,000 homes compared to the existing facility. In doing so, it will maximise the value of our residents' non-recyclable waste, reduce landfill, and displace power plants that use virgin fossil fuels (like natural gas).
Image

Temporary Bulky Waste Recycling Facility Materials Reuse
Constructed in February 2022, the Temporary Bulky Waste Recycling Facility was required for approximately 1 year to enable current operations to continue while NLHPP is built. Seeking to promote the circular economy and reduce waste, we identified reuse opportunities for most of the materials used to build and fit out the facility, including concrete building blocks, office facilities and internal fixtures and fittings. 
Extending the lifespan of these materials through their reuse brings environmental benefits from reducing the use of virgin materials and saving the carbon associated with these new materials.
The value of this innovation:
Promoting Circular Economy Principles 
Driving Carbon Reduction 
Cost Savings / Economic Benefit
Image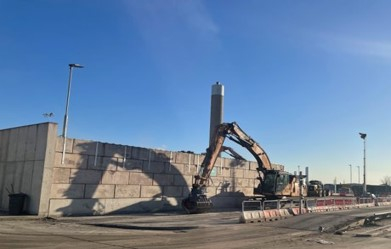 Image

Reuse of Water
Synergies across the project allowed unwanted water from an existing fire tank to be used for leakage testing in the newly constructed Resource Recycling Centre (RRC) rainwater tanks. 568m3 of water was transferred across site to the RRC through a temporary pipe, rather than using fresh water from the mains.
This created benefits through savings in the use of natural resources, reduced waste, and cost/carbon savings compared with the use of fresh mains water. 
The value of this innovation:
Promoting Circular Economy Principles 
Promoting Environmental Protection
Cost Savings / Economic Benefit
Image